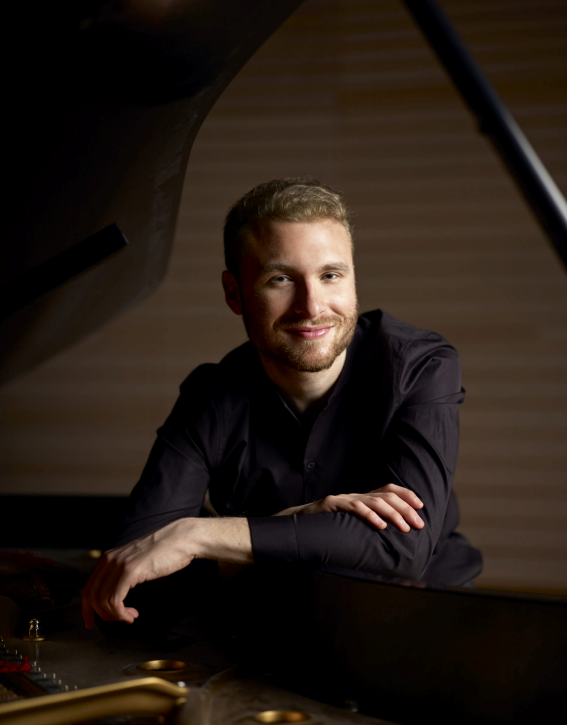 Polish-American pianist Adam Golka was selected by Sir András Schiff to perform recitals at the Klavier-Festival Ruhr in Germany, Tonhalle Zürich, as well as in Berlin and New York (organized by the 92nd Street Y). Adam has been regularly on the concert stage since the age of sixteen, when he won first prize at the 2nd China Shanghai International Piano Competition. He has also received the Gilmore Young Artist Award and the Max I. Allen Classical Fellowship Award from the American Pianists Association.
In summer 2018, Adam Golka made his San Francisco Symphony debut in Beethoven's Piano Cto. No. 4 at the Stern Grove Festival. He returned to the Krzyzowa Festival in Poland, where he premiered his own two-piano arrangement of Debussy's La Mer, and narrated – in Polish, English, and German – Saint-Saens Carnival of the Animals with his own poetry written especially for the opening concert of the Festival. He also returned to Alice Tully Hall at Lincoln Center for a duo-recital with pianist Orion Weiss, and ventured west to The Hornby Island Festival in British Columbia to play a recital of his own and Michael Brown's and Roman Rabinovitch's original works, as well as Beethoven, Paderewski, and Chopin.
During 2018/19 season Adam's concerto engagements have included the Mozart Concerto No.24, K. 491 with the Narodowe Forum Muzyki (NFM) Leopoldinum Chamber Orchestra in Poland, Joseph Swensen conducting; Mozart No. 21,K. 467 with JoAnn Falletta and the Buffalo Philharmonic; Grieg's Concerto with Symphony in C in New Jersey, and the Stravinsky Concerto for Two Pianos with pianist Roman Rabinovich in Tel-Aviv at the Israel Conservatory/Eden-Tamir Music Center. The Cliburn Foundation presented Adam in a solo recital at the Kimbell Art Museum, with works by Beethoven, Paderewski, Golka and Chopin. Also in collaboration with the Cliburn Foundation, Adam offered his special education program: "Van Cliburn: An American Hero", an appearance at the Chopin Society of Texas, Corpus Christi, and a recital at the Chopin Foundation (USA) in Miami, FL.
With his extensive concerto repertoire, Golka has appeared as a soloist with dozens of orchestras, among those the BBC Scottish, Atlanta, Houston, Dallas, Indianapolis, New Jersey, Milwaukee, Phoenix, San Diego, Fort Worth, Vancouver, Seattle, and Jacksonville Symphonies, Grand Teton Festival Orchestra, National Arts Centre Orchestra of Ottawa, the Sinfonia Varsovia, the Shanghai Philharmonic, the Warsaw Philharmonic, and the Teresa Carreño Youth Orchestra of Venezuela. Adam made his Carnegie Hall Isaac Stern Auditorium Debut in 2010, performing Rachmaninoff's Third Concerto with the New York Youth Symphony, and also performed a cycle of all five Beethoven concerti in 2011 with the Lubbock Symphony, under the baton of his brother, Tomasz Golka.
An avid chamber musician, Adam has participated in the Marlboro and Prussia Cover Music Festivals, The Sedona Winter Music Festival and Mainly Mozart in San Diego, Music @Menlo and Caramoor, Trios with the Orpheus Chamber Players, regular appearances at Frankly Music in Milwaukee, as well as touring with the Manhattan Chamber Players.
In recital, Adam Golka has appeared Lincoln Center's Alice Tully Hall in New York (presented by the Musicians Emergency Fund) and in the Mostly Mozart Festival in David Geffen Hall; Concertgebouw's Kleine Zaal, and Musashino Civic Cultural Hall in Tokyo, and at festivals including the Gilmore Keyboard Festival, the Ravinia Festival, the New York City International Keyboard Festival at Mannes, the Newport Music Festival and the Duszniki Chopin festival. He has premiered solo works written for him by Richard Danielpour, Michael Brown and Jarosław Gołembiowski. Golka's début disc, featuring the first sonata of Brahms and the Hammerklavier Sonata of Beethoven, was released in 2014 by First Hand Records.
Upcoming highlights: Adam celebrates Beethoven's 250th birthday in 2020 playing all 32 of Beethoven's Sonatas in performance, going hand in hand with his next recordings with First Hand Records, which will release Adam's recordings of the Beethoven Sonatas over the next few seasons.
Past highlights: performances at the Minnesota Beethoven Festival with the Manhattan Chamber Players and followed by concerts at the extraordinary Tippet Rise Arts Center in Fishtail, Montana in a recital of Schubert, Liszt and Brahms, and in the Schumann Quintet with the Ariel String Quartet. He returned to the Krzyżowa Festival in Poland in August 2017 and capped off that summer with a return to the Fort Worth Symphony for Mozart Concerto No. 27, K. 595, with Music Director Miguel Harth-Bedoya.
Adam studied with the late José Feghali, whom he considers his most significant influence. Adam also spent four years at the Peabody Conservatory studying with Leon Fleisher. Since finishing his official studies, Adam has continued his work with great musicians such as András Schiff, Alfred Brendel, Richard Goode, Murray Perahia, Ferenc Rados, and Rita Wagner.
Adam Golka acts as Artist-in-Residence at the College of the Holy Cross in Worcester, Massachusetts, where he teaches piano, chamber music, and conducts the Holy Cross Chamber Orchestra.
August 2019. Please discard previously dated materials and contact publicity@colbertartists.com before making any alterations or cuts.