KIRKE MECHEM, composer/narrator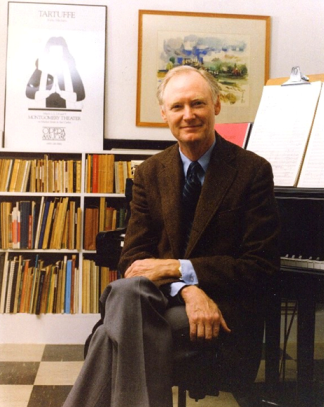 Kirke Mechem
is a prolific composer with a catalog of over 250 works, including symphonies, piano and chamber music, songs, and four operas. . He enjoys an international presence, as ASCAP recently registered concert performances of his music in 42 countries. Born and raised in Kansas and educated at Stanford and Harvard Universities, Mechem conducted and taught at Stanford, and served as composer-in-residence for several years at the University of San Francisco. Mechem lived three years in Vienna, where he came to the attention of Josef Krips, who later championed the composer's symphonies as conductor of the San Francisco Symphony.
Mechem was guest of honor at the 1990 Tchaikovsky Competition in Moscow and was invited back for an all-Mechem symphonic concert by the USSR Radio-Television Orchestra in 1991. The concert was recorded by Melodiya and released on the Russian Disc label.
Kirke Mechem's
Tartuffe
is one of the most-performed operas ever written by an American. Premiered in 1980 by the San Francisco Opera, it has been presented more than 400 times in six countries. In May 2008, the Lyric Opera of Kansas city premiered
John Brown
, a large-scale dramatic work inspired by the American abolitionist, to celebrate its 50th anniversary.
Songs of the Slave
, a suite for bass-baritone, soprano, chorus and orchestra from that opera, has had over 70 performances. Mechem has recently completed an opera based on Jane Austen's
Pride and Prejudice
. He was awarded an honorary Doctor of Arts degree by the University of Kansas. Mechem's extensive and popular choral works have earned him the title, "dean of American choral composers."
His memoir —
Believe Your Ears: Life of a Lyric Composer
— won the ASCAP Foundation's Deems Taylor Award for "outstanding musical biography" of 2016 and was issued in paperback this year.
--© G. Schirmer, Inc.