ERIN VANG, horn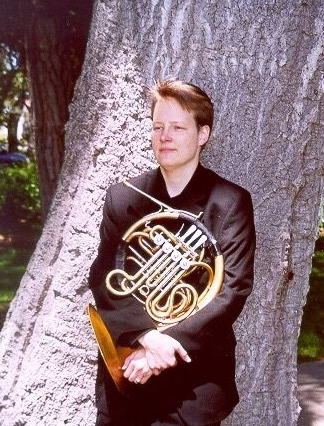 Erin Vang holds degrees in horn performance from St. Olaf College and Northwestern University and has studied with Boris Rybka, Kendall Betts, and Dale Clevenger.
She freelanced in the Chicago area for seven years, including performances with the Lyric Opera of Chicago, the Ravinia Festival Orchestra, Symphony II, and Symphony of the Shores, and tours of Korea and Germany with the Chicago Chamber Orchestra.
Since moving to the San Francisco Bay Area, she has performed with the Oakland East Bay, San Jose, Marin, Monterey, Berkeley, Napa Valley, and Santa Rosa Symphonies; Symphony Silicon Valley, Sacramento and Women's Philharmonics, and the Festival, Oakland, and Pocket Opera companies. She has coached the UC-Berkeley Symphony, Oakland Youth Orchestra, and Young People's Symphony horn and brass sections.
Ms. Vang has dabbled in multi-instrumentalism and improvisation in the folk dance bands Midnight Smørgåsbørd and ContraPtion, and in her collaborations with choreographer Charlotte Adams. Tubist John Manning, Ms. Adams, and Ms. Vang collaborated on a variety of projects involving dances set to improvisatory music, with performances at the University of Iowa, Highways performance space in Santa Monica, and the Dumbo Dance Festival in Brooklyn.
Vang has mentored and coached young horn and brass players in the Oakland public schools and for the Chicago Youth Orchestra, University of California-Berkeley Symphony, Oakland Youth Orchestra, and the Berkeley-based Young People's Orchestra. In 2010–11, Vang undertook a year-long collaboration with Mira Z. Amiras called a kaddish in two-part harmony, a daily conversation between an anthropologist and a musician along with a growing virtual minyan, on themes of death and dying, grief, ritual, and the interplay between music and words. The project included a daily podcast with live, unedited, single-take recordings of Lev Kogan's Kaddish for solo horn, performed by Erin Vang and a variety of guest collaborators (musical, spoken, and otherwise) and is found at http://beitmalkhut.org. By day, Vang heads a statistical tool development and facilitative leadership consultancy, Global Pragmatica LLC®. She lives with her chocolate lab and five Siamese cats in Oakland, CA. In her copious free time she enjoys cooking, home-brewing, running embarrassingly slowly with her lab in the Oakland hills, and camping, and she dreams of one day solving a Saturday New York Times crossword in ink.