KARIN KEI NAGANO, piano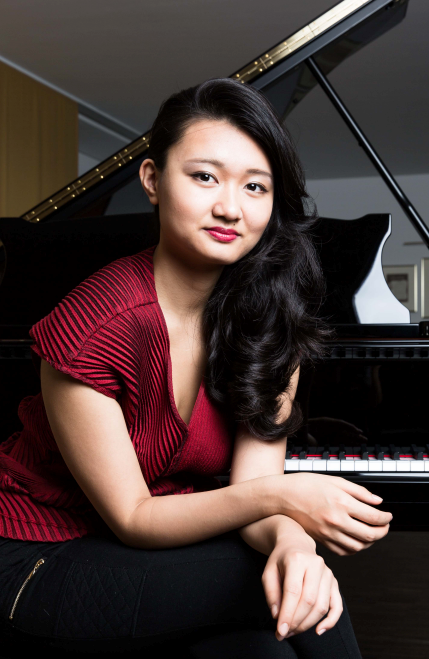 Born in Berkeley, California in 1998, pianist Karin Kei Nagano began studying piano at age 3 and has worked with the internationally celebrated late Germaine Mounier, Igor Lazko, Alexander Paley, Collette Zerah and Rita Wagner. She currently studies with Collette Zerah, the renowned French pianist and specialist in French repertoire.
In March, Karin released her second recording featuring Bach's Inventions & Sinfonies, BWV 772-801. Her first highly acclaimed disc, including two of Mozart's early piano concertos, Nos. 12 & 13, was recorded with the Cecilia Quartet and released in 2014. Both recordings are on the Analekta label.
Karin began competing internationally in 2007, winning First Prize at the Paris International Scriabin Competition and First Prize and Best Interpretation Prize at the Berlin International Piano Competition and First Prize at the Rubinstein International Piano Competition (2009-10). Since her professional debut in 2007 in a performance of the Mozart Piano Concerto K246 with the orchestra of Dr. Wachtang Korisheli, Karin has appeared with the Bayerische Staatsorchester, the Orchestre symphonique de Montréal, Tafelmusik Baroque Orchestra, the Schwaebisches Jugendsymphoniorchester, and the Attaca Orchestra. Recent highlights feature her recital debut at the Festival Harmonies d'Automne in Paris, her orchestral debut in Japan, a concert of Beethoven's Triple Concerto in Augsburg, a concert with the Asia America Orchestra in Los Angeles and duo recitals with her mother, pianist Mari Kodama, at the Fête de la Musique in Quebec, the Bravo Niagara Festival and the Oxford Piano Festival. As well, she has appeared in a chamber concert in San Francisco with Veronika Eberle, Matt Haimovitz and Edicson Ruiz.
In addition to her music career, Karin, who is fluent in French, English, German and Japanese, enjoys creative writing, bicycling, painting, ballet, jazz dance, and swimming. She began studies at Yale University in the fall of 2016.